Founders & Shapers
Saint Kuriakose Elias Chavara (CMC Founder)
Saint Kuriakose Elias Chavara, the Founder of the Congregation of the Mother of Carmel (CMC), is a saint of great legacy from Kainakary, a Kuttanadan village of Kerala. His spirituality was a rare combination of immense social and spiritual commitment. Contributing a paradigm shift to the rigid thoughts of the caste system, he brought about transformation in the retarded Kerala society through his philosophy of all-inclusiveness. The early 19th century was marked with its dull social, cultural and educational backgrounds, which in turn inspired Chavara to envisage for an enlightened community. His contributions are vital in actualizing education for all caste and genders, especially through his command of having a "Pallikkoodam" attached with every Church including all strata of the society.
Rev. Fr. Leopold Beccaro(CMC Co-Founder)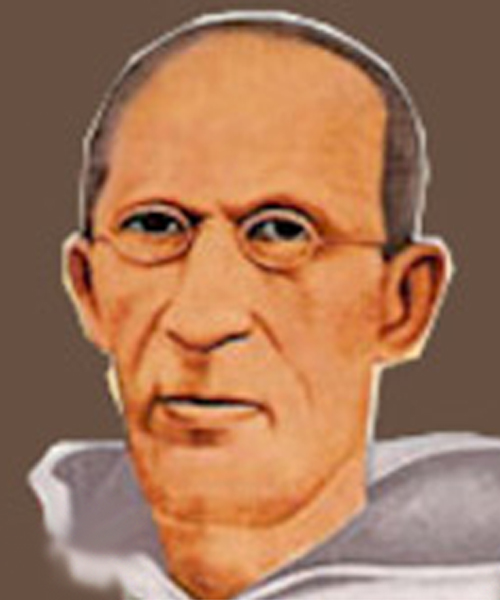 An Italian Missionary Fr. Leopold Beccaro. O.C.D, the Apostolic Delegate of Kerala in the late 19th century, is the co-founder of CMC. Blending "Bhakti" and "Karma" in harmonious proportion, he installed a lifestyle of 'action emerging from contemplation' into the heart of CMC. Shoulder to shoulder with our founder St. Chavara, he initiated a new religious lifestyle for women in Kerala, by inspiring his spiritual daughters to be the first members of this congregation. Our apostolic activities were commenced by teaching spiritual matters to young girls and by giving them proficiency in handicrafts. Imbibing the zeal of our co-founder, the CMC sisters now have entered many other modern apostolic areas and activities.
Despite being an Italian origin, he learned Malayalam language and translated good Italian spiritual books to his mentees. As a man of deep prayer and zealous action, he always urged CMC sisters to attain excellence in their apostolic domains. Keeping our heart pure like jasmine, if we are shielding ourselves from the vices of the world, the Wisdom from above will encamp on us to extract the best out of each one. His fatherly love and concern were always etched in the hearts of many.